Access Self Storage - Eastern
356 Eastern Avenue, Toronto ON
1st 4 WEEKS FREE
Photos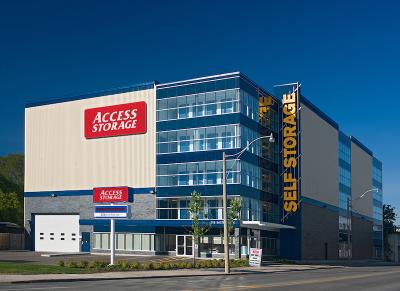 Hours
Office Hours

| | |
| --- | --- |
| Mon-Fri | 9:00am to 6:00pm |
| Sat | 9:00am to 5:00pm |
Access Hours

| | |
| --- | --- |
| Daily | 24 hours/day |
About Access Self Storage - Eastern
Access Self Storage, home of the free moving truck! Celebrating 10 years as downtown Toronto's premier self storage facility. Located conveniently on Eastern avenue, the site boasts full climate control, individually alarmed units and a convenient enclosed loading bay. Please note a valid credit card is required to rent at Access Self Storage.

First 4 WEEKS FREE!
Call NOW
Features
Climate Control
Free Moving Truck
24/7 Security Monitoring
24 Hour Access
Parcel Delivery Acceptance
Drive-in Loading Bay
Packing Supplies
Dollies & Carts Available
Payment Options
Moving Truck
Hours
Office Hours

| | |
| --- | --- |
| Mon-Fri | 9:00am to 6:00pm |
| Sat | 9:00am to 5:00pm |
Access Hours

| | |
| --- | --- |
| Daily | 24 hours/day |
Facility Reviews
---
Thanks to your company and team for the excellent services provided by your helpful employees. The transition for movers to move my items from Toronto to Vancouver went smoothly. Thank you for all the staffs' help and Jason Gutierrez who helped clean up my leftover items with his own vehicle. I would love to recommend your company to anyone who needs a storage service in the future. Please feel free to add my endorsement to any promotional materials you have in the future. Sincerely, William Ho
---
This place is amazing! If you need storage downtown, this is the place. They are personable, professional and go above and beyond to help out their customers. Jason has been so kind and helpful every time. The place is extremely well kept. It's clean and bright and I feel very confident that my belongings are safe. I highly recommend!
---
3/5 for initial setup on phone. The initial setup over the phone seemed clear and streamlined until I arrived in person to complete registration. It was then that I realized there was miscommunication regarding the cost for the full duration vs the first cycle (1 cycle = 4 weeks). I asked repeatedly for the total cost of 12 weeks, and was told an amount that ended up being for 4 weeks. Make sure you double check and confirm your numbers before moving in. +2 stars for excellent in person service. I arrived at the location and asked for confirmation of the total cost for 12 weeks, that's when I realized I had been misquoted. Despite my initial disappointment that there was an error made, the site staff very patiently explained the cost breakdown and offered a full refund because I had not moved anything in yet. They were also very helpful with price matching. The facility itself is well maintained and adequately climate controlled. There are 7 carts available to move items from your car to your locker, which seems adequate. Kush was also extremely helpful, sending someone up to help me open up my unit (it was zip tied, but removable by hand). Jason is also a positive, customer service oriented individual who took the time to explain their insurance coverage to me.
---
We needed a short term storage that quickly transformed into a long term and larger storage when our shipment arrived - being in Montreal...Jason from Access Storage stepped up big time to help us out and assist in locating a larger unit and helping our team switch elements from one unit to another! Great service from Jason G. and amazing service from Access Storage. Clean, fast and super friendly!
---
I recently used Access Storage for a short-term storage solution and was very impressed with the service. The staff were friendly and helpful, and the facilities were clear and well-maintained. The location was also convenient for me, and the price was competitive. Overall, I had a great experience and would definitely recommend Access Storage to others.