Access Storage - Downtown Toronto
1 Woodfield Road, Toronto, ON
1ST 4 WEEKS FREE *
Photos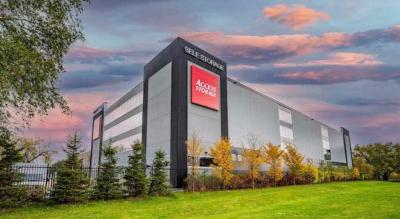 Hours
Access Hours

| | |
| --- | --- |
| Mon-Sun | 24 hour access |
About Access Storage - Downtown Toronto
We are Canada's  #1 storage company and have the metal to back it up, winning numerous service awards such as the Consumers Choice Award for the best storage company. No matter what your storage needs or how long you will be renting, Access is the perfect storage solution. 

Most of our facilities offer 1st 4 WEEKS FREE or FREE MOVE IN VAN. Call now for details!
Features
Climate Control
Free Moving Truck
Drive-up Access
24/7 Security Monitoring
24 Hour Access
Parcel Delivery Acceptance
Drive-in Loading Bay
Packing Supplies
Dollies & Carts Available
Payment Options
Vehicle Storage
Hours
Access Hours

| | |
| --- | --- |
| Mon-Sun | 24 hour access |
Facility Reviews
---
I highly recommend Access Storage, downtown location. I have been a client with access storage for more than 2 years for multiple projects and they never fail to provide excellent, quick, and professional service. The units are clean, well lit, and very accessible. For context - I am a wheelchair user who largely stores mobility aids to be refurbished for the community. No matter the state of the mobility aid that I have been moving into the unit, I have never had any trouble rolling it in, up the elevator, and into the unit easily. I frequently recommend these units to friends and family for moving and storage projects. They are quickly available and offer a consistent and excellent move in discount, as well as moving supplies if needed. It is incredibly convenient. The location is also available to access 24/7 after move in, which is great for folks who work interesting hours. Can't speak more highly of this company! Consider checking them out for your next storage need!
---
I have to say this is likely the best storage facility in Toronto. The staff are amazing. I cannot say enough kind words about Farris who goes above and beyond for his clients. He is one of the most wonderful people I have had the experience of working with. All around a 5 star rating. If I could give a 10 star, I would. The facility is super clean, very professional staff. I am fortunate to have found this facility and a loyal client for 6+ years. Also, 24 hour access on my industry is key. Inside loading to keep you warm throughout the elements. Thanks guys, for being so amazing.
---
the service, the attention to detail, the consideration for ones every need. Ferris was all of that and more. i cannot thank him enough. the facility is so clean and so easy to access. i ran into people i knew, designers. we all said the same thing. best storage in town. Ferris is top notch!!
---
Always amazing service. Ferris and the team there always take care of us! Never any issues, easy & convenient set up, always extremely clean, and amazing customer service! I've used many different storage facilities around the GTA for business and this has been the best experience we've had
---
It is always a pleasure to deal with Access Storage Downtown/Woodfield location. Ferris and his team ( Jim and Nick) are always knowledgeable, respectful, kind and extremely helpful. The location is very convenient with 24 hour access, drive-in loading/ offloading in a clean, climate controlled and safe environment. Bonus is having a sweet view of Lake Ontario and the Ashbridges Bay Marina. Thank you!