Access Storage - East York
40 Beth Nealson Dr, East York, ON
1ST 4 WEEKS FREE
Photos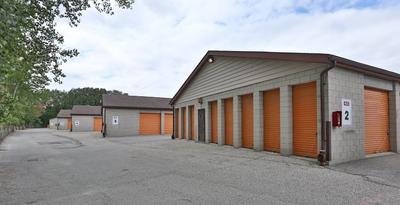 Hours
Office Hours

| | |
| --- | --- |
| Monday | 9:00am to 5:00pm |
| Tuesday | 9:00am to 5:00pm |
| Wednesday | 9:00am to 5:00pm |
| Thursday | 9:00am to 5:00pm |
| Friday | 9:00am to 5:00pm |
| Saturday | 9:00am to 5:00pm |
Access Hours

| | |
| --- | --- |
| Mon-Sun | 24 hours |
About Access Storage - East York
We are Canada's  #1 storage company and have the metal to back it up, winning numerous service awards such as the Consumers Choice Award for the best storage company. No matter what your storage needs or how long you will be renting, Access is the perfect storage solution. 

Most of our facilities offer 1st 4 WEEKS FREE or FREE MOVE IN VAN. Call now for details!
Features
Climate Control
Free Moving Truck
Drive-up Access
Security
24 Hour Access
Parcel Delivery Acceptance
Drive-in Loading Bay
Packing Supplies
Dollies & Carts Available
Payment Options
Vehicle Storage
Hours
Office Hours

| | |
| --- | --- |
| Monday | 9:00am to 5:00pm |
| Tuesday | 9:00am to 5:00pm |
| Wednesday | 9:00am to 5:00pm |
| Thursday | 9:00am to 5:00pm |
| Friday | 9:00am to 5:00pm |
| Saturday | 9:00am to 5:00pm |
Access Hours

| | |
| --- | --- |
| Mon-Sun | 24 hours |
Facility Reviews
---
Too soon to make a proper rating. We'll see. Price given was good but it's only early
---
Great customer service. Great equipment. Great place. Very very very Nice staff.
---
Clean, secure & safe. Staff are really helpful. Easy to manage your account online.
---
Great location and easy access to units. No stairs, no elevators and no long hallways. You just drive right up to your unit. You just cannot get a more convenient set up. Very competitive prices too. One last thing, people at the office were great to deal with.
---
This particular Access Storage has been a blessing for me! This is my first time ever renting storage space and I'd like to point out a few thing; 1) front line staff were all very courteous and accommodating - thanks for the fabulous service Bianca and the lovely lady that set up my account (I'm sorry I can't remember her name) 2) my own storage space is super clean, 3) the rest of the storage property is also super clean!! Great job Access!