Access Storage - East York
40 Beth Nealson Dr, East York, ON
1ST 4 WEEKS FREE *
Photos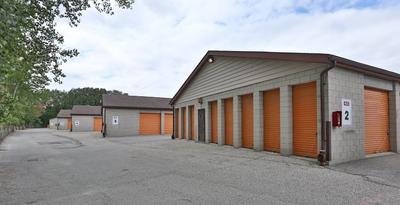 Hours
Office Hours

| | |
| --- | --- |
| Monday | 9:00am to 5:00pm |
| Tuesday | 9:00am to 5:00pm |
| Wednesday | 9:00am to 5:00pm |
| Thursday | 9:00am to 5:00pm |
| Friday | 9:00am to 5:00pm |
| Saturday | 9:00am to 5:00pm |
Access Hours

| | |
| --- | --- |
| Mon-Sun | 24 hours |
About Access Storage - East York
We are Canada's  #1 storage company and have the metal to back it up, winning numerous service awards such as the Consumers Choice Award for the best storage company. No matter what your storage needs or how long you will be renting, Access is the perfect storage solution. 

Most of our facilities offer 1st 4 WEEKS FREE or FREE MOVE IN VAN. Call now for details!
* 1st 4 weeks free - subject to availability
Features
Climate Control
Free Moving Truck
Drive-up Access
24/7 Security Monitoring
24 Hour Access
Parcel Delivery Acceptance
Drive-in Loading Bay
Packing Supplies
Dollies & Carts Available
Payment Options
Vehicle Storage
Hours
Office Hours

| | |
| --- | --- |
| Monday | 9:00am to 5:00pm |
| Tuesday | 9:00am to 5:00pm |
| Wednesday | 9:00am to 5:00pm |
| Thursday | 9:00am to 5:00pm |
| Friday | 9:00am to 5:00pm |
| Saturday | 9:00am to 5:00pm |
Access Hours

| | |
| --- | --- |
| Mon-Sun | 24 hours |
Facility Reviews
---
Great experience overall. I got payment issues on extra charge. I did email and call supports (Sophia and Bianca) able to resolve it within 2 hours both on email and on-call which is amazing. Beyond expected. As for the storage. I rented out 5x10 space. It is questionable old condition building, but the cost and promo (1 month free) that they are going on. I can't resist to move in. Lets just say you paid what expected it to be. I was told it is one of the oldest Access Storage locations they owned. Makes sense.
---
Securing locker was quite simple after the paper work was completed. Rates are competitive. No need for insurance - my house policy extended to items stored in locker. So far so good.
---
Update : the regional manager called me back and helped me but I don't think anything was investigated internally on how I was treated by the staff bianca. All over Ontario we have the same protocol and rules for victims or suspected domestic violence victims and we are all trained on this prior to gaining these jobs due to Ontario law not only for costumers but among coworkers . Once reaching the manager he helped me but with agreeable that paying next months rent ahead of time . I was thankful for his help and kindness but overall I am still pretty upset about the situation. It shouldn't have taken that much mental energy , crying , time over 100 phone calls trying to rectify , the police offering confirmation and assistance and still days into it no help. If it wasn't for the regional manager I'm sure I would have lost all my beleongings in thankfull but it does not excuse what happened. Prev review : I'm rating one star because I've experienced a really disturbing situation with the manager here . I want to contact someone above her .. she gave me the hardest time. Called emergency line they also can only leave a message with the same woman who's mistreating me . If anyone who can help sees this pls contact me asap I've been trying to rectify a emergency situation since Friday sep 30 2022 . Spent all morning on phone with access storage trying to reach regional manager from 6:30 am - 12 pm Saturday to the point I almost had a breakdown from trying to rectify this situation.
---
Very friendly and helpful staff, got me set up with a storage space same day I requested and are very accommodating with your schedule. They offer great deals much better than other places, great location and open access 24/7. Free use of the dollies to make it a lot easier! Absolutely no complaints about this business and that is a lot more than I can say about others. 10/10 would recommend. Thank you Access Storage for your great service 👍🙏
---
Great location and easy access to units. No stairs, no elevators and no long hallways. You just drive right up to your unit. You just cannot get a more convenient set up. Very competitive prices too. One last thing, people at the office were great to deal with.