Access Storage - Etobicoke
137 Queens Plate Drive, Toronto, ON
1ST 4 WEEKS FREE
Photos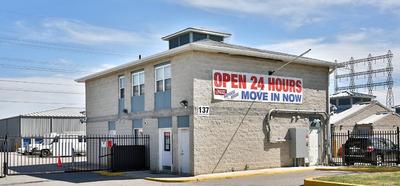 Hours
Office Hours

| | |
| --- | --- |
| Mon-Fri | 10:00am to 6:00pm |
| Sat | 9:00am to 5:00pm |
| Sun | closed |
Access Hours

| | |
| --- | --- |
| Mon-Sun | 24 hours |
About Access Storage - Etobicoke
We are Canada's  #1 storage company and have the metal to back it up, winning numerous service awards such as the Consumers Choice Award for the best storage company. No matter what your storage needs or how long you will be renting, Access is the perfect storage solution. 

Most of our facilities offer 1st 4 WEEKS FREE or FREE MOVE IN VAN. Call now for details!
Features
Climate Control
Free Moving Truck
Drive-up Access
Security
24 Hour Access
Packing Supplies
Dollies & Carts Available
Payment Options
Vehicle Storage
Moving Truck
Hours
Office Hours

| | |
| --- | --- |
| Mon-Fri | 10:00am to 6:00pm |
| Sat | 9:00am to 5:00pm |
| Sun | closed |
Access Hours

| | |
| --- | --- |
| Mon-Sun | 24 hours |
Facility Reviews
---
I've loved this place so far! Customer service is AMAZING and they have all been extremely helpful and friendly. I was looking for a storage because I needed to move my stuff within a week and they supported me with not only storage but also moving truck and supplies, and gave me great student deals! Would recommend it for sure!
---
I wanted to share my excellent experience from the other day at Access Storage in Etobicoke. I visited the storage to buy supplies for my moving and I was welcomed by very friendly lady who happened to be the Manager there and her name is Dina. With no hesitation she stepped out of her desk ( in 2 Feet distance ) and start showing me the supplies I may need and help me in my moving base on my house size. All this confidence in her gave me a peace of mind that I'm in the right hands and I'm really getting everything I need for my moving. Thank you Dina for the excellent service. I definitely recommend this location.
---
It is a good self storage but comparatively it is expensive. The corridors are narrower. The elevator is limited for lifting the stuff without attending. The customers have to send their belongings to upstairs through the elevator and climb the steps to the second floor. Then take out their stuff. If there is something tall and keep holding, it is not possible to store in this storage due to the issue of the elevator. The front doors are managed automatically and some times it cannot be closed in the after hours. No one answered the phone to assist.
---
I visited the queens plate location yesterday and was greeted by Peter at the front desk. Peter took his time to help me with all my requests even though I got there just before closing time. It is not very often you receive this kind of service in today's world. Thank you for all your help Peter!!! Stay safe🙏🏽
---
Started renting a unit about 2 months ago and haven't had any issues. Maybe it's just my unit, but it is very clean, climate controlled, and while the area it's in isn't the safest of areas, my particular locker is behind two electronic locked doors and a padlock, so I have peace of mind. The prices were competitive, the service at this location is quick with no nonsense, which I really appreciate. The location is close enough to the 401 to be pretty easy to access. Overall I had a really positive experience and would recommend it.