Apple Self Storage
530 Adelaide St West, Toronto, ON
1ST 4 WEEKS FREE on select units
Photos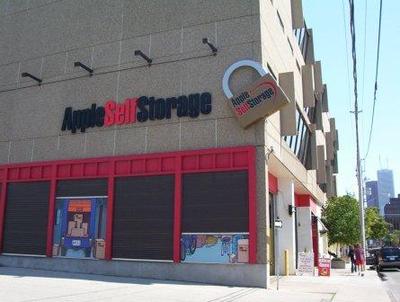 Hours
Office Hours

| | |
| --- | --- |
| Mon-Fri | 8:30am to 6:00pm |
| Sat | 9:00am to 5:00pm |
| Sun | Closed |
Access Hours

| | |
| --- | --- |
| Daily | 6:00am to 10:00pm |
About Apple Self Storage
Apple self Storage - Toronto Unique Advantages: Conveniently located on Adelaide St. W, one block east of the Bathurst and Adelaide intersection, just north of the Gardiner Expressway, downtown Toronto. All units are located indoors, which means they are all climate controlled. There is an indoor loading dock with four bays, two of which are large enough to accommodate up to 50' trailers. Complimentary use of on-site dollies and pallet truck. Two extremely large freight elevators (approx. 100 SF) to assist in transporting goods. Free parking in Adelaide's lot for Apple customers on the premises. 
Features
Climate Control
Security
Parcel Delivery Acceptance
Drive-in Loading Bay
Packing Supplies
Dollies & Carts Available
Payment Options
Hours
Office Hours

| | |
| --- | --- |
| Mon-Fri | 8:30am to 6:00pm |
| Sat | 9:00am to 5:00pm |
| Sun | Closed |
Access Hours

| | |
| --- | --- |
| Daily | 6:00am to 10:00pm |
Facility Reviews
---
My experience with Apple Self Storage has been really great! Logistically, I love the great location downtown, and ease of access to my unit. It is so convenient to drive in, and loading and unloading is a breeze. The downtown location is just so perfect and ideal. But I think what made the experience better is the great customer service. The staff members are very attentive (and kind during these difficult covid times), answering all my questions and queries, whether in person, over the phone, or e-mail. Anita has been especially helpful with my billing questions and accommodating the many changes I had to make. When I was so stressed with moving, it's nice to have one less thing to worry about. Also, once when I had accidentally forgot to lock my unit, staff was quick to contact me so I can go and lock my unit.
---
Convenient, clean, prime location and friendly staff! Can't ask for any better!! Definitely will be using these guys again 🙂
---
When I called, I dealt with very professional and friendly staff. She got me the unit I needed and then sent along my agreement which was very clear and user friendly. Would recommend!
---
Amazing amenities struck us at our first visit to this site. Staff were very professional and attentive to our needs. Anita was especially fantastic as she took the time to explain everything patiently to us. I like the fact they have four loading bays on site. Anita also answered all of our questions with a tremendously positive attitude. I recommend this location in the highest rating.
---
As always, my experience on site with the staff at Apple Self Storage was fantastic! Even during the times of covid, they are following all of the provincial protocols making customers like myself feel safe. Recently when I went on site, I was looking to pack some items out to clear up some room in my unit. Unfortunately, I brought only a few supplies with me and was getting agitated with the situation as I would have to leave to leave the unit and go buy some additional materials at another store. When I went to speak to the associate on site that day (Anita), she assured me that I wouldn't have to make a trip off site and that they actually sold the packing materials right there. Anitas service, like all the other staff, was very professional and customer service oriented. She was kind, patient and warm which is really hard to come by these days with all of the stress people are managing. Would highly recommend using this facility!