Secure Self Storage
4590 Dufferin St North York ON
FREE TRUCK RENTAL Call For Specials
Photos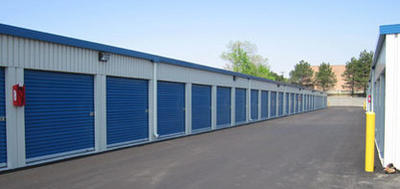 About Secure Self Storage
Features Secure Self Storage North York Features Business & Personal Storage Open 7 Days a Week 24-Hour Surveillance Cameras Use of Carts & Dollies Unused Credit/Rent Refunded Dock Level Loading Exterior/Interior Lighting Individually Alarmed Units Packing and Moving Supplies Professional Customer Service Temperature Controlled Units Hours Office Mon-Fri 9:00 am-6:00 pm Sat 9:00 am-5:00 pm Sun closed Access 24 Hours A Day - 7 Days A Week
Features
Climate Control
Free Moving Truck
Drive-up Access
24/7 Security Monitoring
24 Hour Access
Parcel Delivery Acceptance
Drive-in Loading Bay
Packing Supplies
Dollies & Carts Available
Payment Options
Moving Truck
Facility Reviews
---
EDIT: Secure Self Storage has since been bought out by ACCESS STORAGE mid 2022. My new rating is now 2-3 STARS for the following reasons: The service has deteriorated drastically and the free truck is NO longer available. New staff doesn't answer phones or emails (maybe if you're a new customer they'll respond faster). I don't know why bc when I show up in person several times there was 2-3 people in the office and I had to drive from outside the GTA just to speak to them which is ridiculous. I asked them why they don't answer the phones and they say its because they are short staffed (they are not). In the past, there was only 1 person in the office, Kamaran, the office manager, so this doesn't make sense, no excuses, which btw he is still there (he always provided an amazing service but something has changed since company has been bought out). The regional manager was also on site when I came in. Make sure you find out their office hours and new access hours to the site before renting as it's been changed; no longer 24 hrs access. I think last access is 10pm but don't quote me exact time. Other than these issues, the site is great. Too bad about the new changes because it no longer meets my needs and unfortunately it's not as great anymore. The bonus was the free truck during move-in which is a shame they got rid of it. Shop around. There are many facilities all over GTA (Uhaul in St Catharines actually had cheaper 10x10 units if available so maybe same in GTA but there are other facilities that I have since noticed). I have been at this location for approx. 2 years. FORMER REVIEW: I originally gave a 5 STAR RATING for Self Secure Storage (before bought out by above). Clean, safe facility. Kamaran is very friendly and was responsive on a Sunday during an emergency I had. I have had a unit more than a year here. My original contact was Saba in first year and she was also friendly and helpful. So, they have very nice staff. There are 2 point of entries, loading bay at back and side entry into facility. Trolleys available for use. Prices are fair and cheapest around I found. Lots of units. No air conditioning or heating but you don't need it. Its a concrete building and it's cool enough in summer and not too cold in winter. There is a free moving truck which is available to use when you rent a unit. Also when I first moved in if you commit to so many months I got a free month which was nice. Rent does go up per market price annually so ask about this. I'm happy with location and facility!
---
Long time customer met Regional Manager Amer Nalim. He was very nice and kind gave me excellent customer service. Took care of all my requirements and made me feel like I'm so special. Thank you Access Storage for keeping my items safe all these years..
---
Amazing customer service. Amer went over n byond helping me with my account. Great service prompt response. SUPER CLEAN LOCATION. FRIENDLY PEOPLE.
---
As a long time storage unit renter, there have been exactly ZERO problems with *Access Storage* (or Self Storage before it). That alone is great….But the main reason I'm leaving this comment is to sing the praises of the person in charge of operations, and that is Kumaran. He simply makes it all so pleasurable right from the get-go. He is both a business person and a gentleman; two qualities rarely seen simultaneously. Not only have all of MY dealings been easy and smooth, but I have been present when he was dealing with other customers, either in person or on the phone, and I found him to be consistently amazing, polite, and genuine. He goes above and beyond the call of duty and will go to the ends of the earth to ensure that every customer experience is the best one possible. He speaks to everyone with the utmost respect, explains in simple, yet effective detail all one needs to know about the company and how it operates, and tries his absolute hardest to come up with solutions to any questions/problems/issues. The man is an asset to the industry, and any place of business should consider themselves lucky to have him. ☺️🙏🏼
---
I needed urgent storage had great experience getting what i needed. They followed up with via phone almost immediately and i received confirmation emails right after the phonecall. Everything was clear and smooth. Many thanks for Kumaran for his excellent service.