SmartStop Self Storage
1120 Dupont Street, Toronto ON
1st MONTH FREE
Photos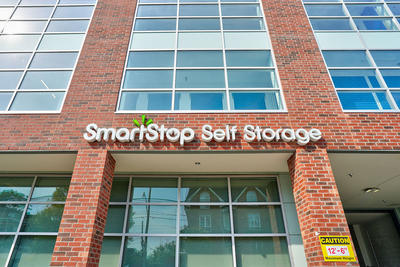 Hours
Office Hours

| | |
| --- | --- |
| Mon-Fri | 9:30am to 6:00pm |
| Sat | 9:00am to 4:00pm |
| Sun | 10:00am to 2:00pm |
Access Hours

| | |
| --- | --- |
| Daily | 6:00am to 10:00pm |
About SmartStop Self Storage
SmartStop Self Storage in Toronto, servicing the areas of Toronto and York, is the smarter way to store your belongings. Our self storage units feature climate control, video surveillance, wide driveways and deals like "1st Month Free" move-in specials. Whether you're downsizing, moving or just decluttering, the storage professionals at SmartStop Self Storage can help you decide which self stora ge unit size will work best for your needs.
1ST MONTH FREE - CALL NOW TO RESERVE 647-930-9950
Unit Sizes and Pricing
5' x 5' unit

Locker, 1st Floor, Climate

$109.00 /Month
Continue

5' x 2' unit

Inside, Elevator, Climate

$120.00 /Month
Continue

5' x 5' unit

Inside, Elevator, Climate

$159.00 /Month
Continue

5' x 3' unit

Inside, 1st Floor, Climate

$165.00 /Month
Continue

5' x 5' unit

Inside, 1st Floor, Climate

$200.00 /Month
Continue

5' x 10' unit

Inside, Elevator, Climate

$223.00 /Month
Continue

10' x 10' unit

Inside, Elevator, Climate

$401.00 /Month
Continue

10' x 15' unit

Inside, Elevator, Climate

$503.00 /Month
Continue
Features
Climate Control
24/7 Security Monitoring
Parcel Delivery Acceptance
Drive-in Loading Bay
Packing Supplies
Dollies & Carts Available
Payment Options
Hours
Office Hours

| | |
| --- | --- |
| Mon-Fri | 9:30am to 6:00pm |
| Sat | 9:00am to 4:00pm |
| Sun | 10:00am to 2:00pm |
Access Hours

| | |
| --- | --- |
| Daily | 6:00am to 10:00pm |
Facility Reviews
---
I highly recommend SmartStop Storage @ Dupont. Facilities are great and clean. The prices are fantastic and have sales. Booking and moving in was easy. I booked online and confirmed it in the office. Melissa was very helpful, knowledgeable. She was also friendly and made the whole experience quick and fun. She also answers any questions, took me to show me the unit and explained all entry details and such. Two enthusiastic thumbs up! :D
---
This place will raise your rent any amount they want. You've been warned! In 2019 I paid $66 per month for a 5x5 unit, I now pay $120. They give you little notice and use the vague "market rent" excuse to justify the increase. I spoke to a woman on the phone who had zero customer service skills and laughed at me when I asked questions as well as gave me very vague answers as I doubt she knew what she was talking about. I asked her about the increased costs and she actually said, "well the building is still standing so that's good." Are you serious? This is an actual answer? I unfortunately live in a small condo so I guess I'll have to keep paying these insane prices but please take your business elsewhere if you want to avoid a headache and completely unprofessional attitude! Edit: I spoke with another person and was able to waive the most recent increase. Do you best to avoid talking to the "store manager" or whatever she calls herself.
---
By far, SmartStop Self Storage is the best. Customer service is excellent especially at sign up. It's open long enough daily to accommodate my needs. The price is reasonable and affordable, too!
---
This place rips you off any chance they can. At first they advertised prices of units that hid the fact that they were up multiple steps and hard for accessibility needs (as someone who was 8 months pregnant, this was a very awful experience). Next thing is that they raise the rent insane amounts. When we started renting in Dec 2020, it was $83 a month. It's now $157 less than 2 years later. Absolutely atrocious - double the price. Finally, their hours are not true - they say they are open until 10pm but we just tried to go at 9:30pm and it was locked for the night. Save yourself the headache and run in the opposite direction. I wish we had.
---
Just started renting my space at SmartStop on Dupont and so far so good. The space is good for the price, the location is good, I do wish the closing hours were later but overall so far so good. I have to also shoutout the customer service from SmartStop, the lady over the phone was good and patient but shoutout to the onsite coordinator Melisa for her amazing customer service and her empathy and great vibes.