SmartStop Self Storage
1120 Dupont Street, Toronto ON
1st MONTH FREE
Photos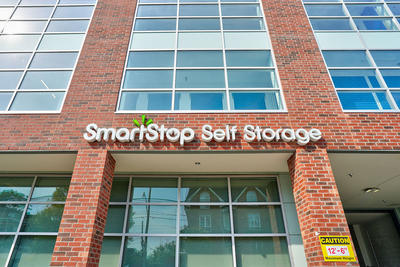 Hours
Office Hours

| | |
| --- | --- |
| Mon-Fri | 9:30am to 6:00pm |
| Sat | 9:00am to 4:00pm |
| Sun | 10:00am to 2:00pm |
Access Hours

| | |
| --- | --- |
| Daily | 6:00am to 10:00pm |
About SmartStop Self Storage
SmartStop Self Storage in Toronto, servicing the areas of Toronto and York, is the smarter way to store your belongings. Our self storage units feature climate control, video surveillance, wide driveways and deals like "1st Month Free" move-in specials. Whether you're downsizing, moving or just decluttering, the storage professionals at SmartStop Self Storage can help you decide which self stora ge unit size will work best for your needs.
1ST MONTH FREE - CALL NOW TO RESERVE 647-930-9950
Features
Climate Control
Security
Parcel Delivery Acceptance
Drive-in Loading Bay
Packing Supplies
Dollies & Carts Available
Payment Options
Hours
Office Hours

| | |
| --- | --- |
| Mon-Fri | 9:30am to 6:00pm |
| Sat | 9:00am to 4:00pm |
| Sun | 10:00am to 2:00pm |
Access Hours

| | |
| --- | --- |
| Daily | 6:00am to 10:00pm |
Facility Reviews
---
I was looking for self storage during the Covid-19 pandemic and discovered SmartStop Self Storage on Dupont Street in Toronto. The facility was quite new, clean and well organized. I found all the staff, Eva, Julian and Melissa to be extremely helpful at all times. They were always prompt and attentive to any requests I made and always did their best to help out. I would highly recommend this facility to anyone in need of self storage. All of the employees are very eager to please their clients to make them at ease through all the moving in and out. Being a small business owner I really appreciated the staff's attention to detail and focus on making the customer satisfied. I would definitely use their services again when the need arises. Thank you, A very satisfied customer!
---
Wonderful customer service by all! Julien was incredibly nice and helpful. The facility is so clean, well lit and very accessible. I loved that it was a 1 stop shop for all my packing needs as well. Would recommend 100%!!
---
These people were trained properly in Customer Service. Syreeta and Thomas were both amazing. They were quick, efficient and offered up solutions that worked. Oh, the facility....very clean and well secured. A+++
---
SmartStop advertises a price for a 5x5 unit. Awesome! Except that unit is basically inaccessible, above other units and super hard to get anything in/out. You want one with regular access at floor level? That'll be extra. This is called a bait and switch. Once you start using the unit, 6 months in they send you a very nice little greeting card to share the great news that they are increasing your price by 15%. I asked them at the office about this and they let me know that pricing is revisited every 5-7 months, but not to worry, they ensure that price increases are "fair". Maybe I'm crazy, but 30% per year seems awfully steep. I haven't left yet because it's a pain to move all my stuff but ... buyer beware I will admit that the building itself is quite well designed. The distance from your car to your unit is shorter than other self-storage places I have used in the past.
---
Staff here are so helpful and friendly! They make it easy to get answers fast, assist with anything needed while office hours are active and seem to be taking great measures to ensure client safety while on site during covid. A+