SmartStop Self Storage
69 Torbarrie Road North York, ON
1ST Month FREE - Call NOW!
Photos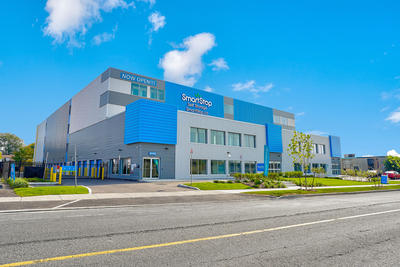 Hours
Office Hours

| | |
| --- | --- |
| Mon-Fri | 9:30am to 6:00pm |
| Sat | 9:00am to 4:00pm |
| Sun | 10:00am to 2:00pm |
Access Hours

| | |
| --- | --- |
| Daily | 6:00am to 10:00pm |
About SmartStop Self Storage
Whether you are downsizing, moving, or just decluttering, SmartStop Self Storage is the safest place to store your belongings. Visit our website today to reserve your storage unit for free, or rent online and skip the counter. Take advantage of our great move-in specials such as "1st Month Rent Free". With cheap and affordable prices, climate-controlled units, and wide driveways, SmartStop Self Storage in North York, ON has the right storage solution for you. SmartStop Self Storage is the Smarter Way to Store for North York, ON, and its surrounding communities of Rexdale, Downsview, York, Weston, and many more. Our goal is to give you peace of mind and a hassle-free self-storage experience. Discover a variety of convenient storage options!
1ST MONTH FREE - CALL NOW TO RESERVE  437-637-5331
Features
Climate Control
Drive-up Access
Security
Parcel Delivery Acceptance
Drive-in Loading Bay
Packing Supplies
Dollies & Carts Available
Payment Options
Hours
Office Hours

| | |
| --- | --- |
| Mon-Fri | 9:30am to 6:00pm |
| Sat | 9:00am to 4:00pm |
| Sun | 10:00am to 2:00pm |
Access Hours

| | |
| --- | --- |
| Daily | 6:00am to 10:00pm |
Facility Reviews
---
Troy at 69 Torbarrie Rd North York was very friendly and very professional. His explanation was one of the best I have experienced during my search for a storage space. I visited more than enough self storage places, and found this company to be the cleanest, the most economical (hope they will not increase all of sudden as I heard many horrid stories from other storage customers), and with no lease commitment (very important). I had many boxes to unload so they kept one elevator in service which helped make our move much easier. So far, I would highly recommend this company. Just ask for Troy!
---
I had the most amazing experience here! I was coming in from out of town and needed assistance moving an entire apartment's worth of items into a storage unit. Troy was so available to help, and assisted me in physically moving all of my things, and helping me pack my unit efficiently. I would recommend this storage facility to anyone. Thank you so much Troy for all of the help!!!
---
An all-around excellent option for self storage. New, clean, well-kept facility. Great prices and a location that is easy to reach. Superb customer service. Special thanks to Troy for all his help setting us up! We appreciated his patience in setting up our rental unit at the end of a very long day.
---
Just purchased a unit here. Friendliest staff I've met so far. Dude was also honest and straightforward. Place is clean and well kept. Storage units are in excellent shape and also well kept and clean. Only disadvantage is the lock purchased is useless when you're finished with the storage unit.
---
So glad I choose this storage facility, Troy brought A++ service and gave me all information and answered all my questions. This storage facility is super clean and the most affordable monthly unit pricing I saw from all the comparisons I did. High recommended