Weston Self Storage
365 Weston Road, Toronto, ON
1ST 4 WEEKS FREE on select units
Photos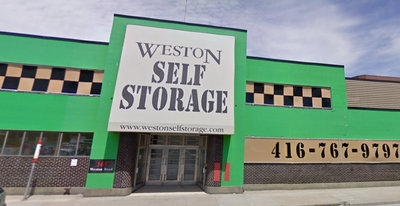 About Weston Self Storage
Weston Self Storage Unique Advantages: Conveniently located on Weston Rd between St. Clair Ave and Rogers Rd in Toronto. All units are located indoors, which means they are all climate controlled. There are two covered loading bays. Complimentary use of on-site dollies. One extremely large freight elevators (approx. 100 SF) to assist in transporting goods. Free parking available on the premises. Convenient access 24 hours 7 days a week. Office Hours: Mon-Fri: 9:00am-6:00pm Sat & Sun: 9:00am-5:00pm
Features
Climate Control
Drive-up Access
Security
24 Hour Access
Parcel Delivery Acceptance
Drive-in Loading Bay
Packing Supplies
Dollies & Carts Available
Payment Options
Vehicle Storage
Moving Truck
Facility Reviews
---
A professional and friendly atmosphere. I had an informative tour of the facilities best part was the competitive rates. I got a great deal on my unit. I highly recommend Weston Self Storage when thinking of storage and moving supplies.
---
Excellent service before and during covid very clean courtesy customer service friendly text to remind me about due date will recommend this storage facility to friends and family
---
One thing for sure is the customer service from the young lady Julia and young man working at the Roger's road location is impeccable. Always in great spirits and willing to help and answer any questions I may have. Whenever I go to my unit there is never any problems or concerns with the cleanliness. I'm very satisfied with the service I've been provided and will continue business with Weston self storage until I no longer need.
---
Thank you for your hospitality and kindness. The experience that was given to me was excellent service and would recommend it to anyone who is needing place to store miscellaneous items I'm happy to see we still have excellent customer service
---
The large units are spacious, and the space is very clean. We moved our office here today and the floors had just been mopped. Very pleased. Rates are some of the best I've seen. Even compared to the suburbs. If they have any spots available I recommend securing one asap. Or get on the wait list! Highly recommend!