XYZ Storage - Leaside
1 Laird Drive, Toronto ON
1st MONTH FREE *
Photos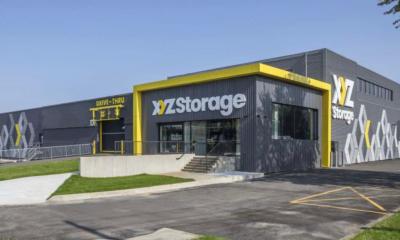 Hours
Office Hours

| | |
| --- | --- |
| Mon-Fri | 9:00am to 7:00pm |
| Sat-Sun | 9:00am to 5:00pm |
Access Hours

| | |
| --- | --- |
| Daily | 24 hours |
About XYZ Storage - Leaside
Number One Laird sits proudly as the jewel in the crown of XYZ Storage. From the moment you walk in and see  the espresso machine in the sleekly designed office, it is clear to see that this is not your run of the mill self storage. You are greeted with a warm smile and a person genuinely eager to help, reminiscent of how customer service should be. The first and only drive through storage facility in Ontario (25' X 800') it is the Largest in the world, This 1000+ unit marvel is situated right in the heart of Leaside upon a 5 acre property. In addition to storage, the facility offers truck rental and the purchasing of any packing supplies you need. In a nutshell Laird is impressive to say the least, but must be experienced to be appreciated as the ultimate in self storage solutions and service.
1ST MONTH FREE on most units - Book Online NOW *


Features
Climate Control
Drive-up Access
Security
24 Hour Access
Parcel Delivery Acceptance
Drive-in Loading Bay
Packing Supplies
Dollies & Carts Available
Payment Options
Vehicle Storage
Moving Truck
Hours
Office Hours

| | |
| --- | --- |
| Mon-Fri | 9:00am to 7:00pm |
| Sat-Sun | 9:00am to 5:00pm |
Access Hours

| | |
| --- | --- |
| Daily | 24 hours |
Facility Reviews
---
We used XYZ for a few months while doing some renovations. We were immediately impressed with the cleanliness and attention to detail. Several flatbed dollies are made available to use. The facility is well lit and feels secure. We know they look after their facility and customers because we inadvertently did not lock our unit properly one day. We soon got a phone call advising us of this. That is reassuring. The plans and rentals are very flexible. We highly recommend them.
---
My husband and had a great experience with one of the employees named Natasha. She was very informative on pricing, switching from one locker to the other and had great customer service skills. We downgraded from a big locker to a much smaller one (reducing the clutter). The price difference is unbeatable. Natasha made sure there we were given plenty of options. Unfortunately, they were sold out in one of the sizes we wanted, but thankfully there were other sizes that perfectly fit our things. Natasha was overall great! We are happy with our new locker and she made things an easy and pleasant process! Thank you for all your help Natasha!
---
I needed short term storage some time ago, I had too much "stuff" that I did not want to get rid of but wanted time to sort through everything. XYZ Storage was a great choice. Their staff was courteous, helpful, and explained how their facility worked. It was important for me to know that the storage facility was well lit, safe, and easy to use. I always felt comfortable while accessing the unit. Thank you for the excellent service, I fully recommend XYZ Storage.
---
Excellent, as always! I have used this storage facility over the years as needs arose, and I highly recommend this business. It is immaculately clean, well run and makes the stress of moving much less. Remy and Sarah and all of the other employees I have interacted with are wonderful and very helpful.
---
I used XYZ Storage (Laird location) for just over a year and would recommend them to anyone looking for a self-storage service. They were friendly, helpful, and always responsive when I first rented the unit and their facilities are secure, clean and spacious. I needed some extra assistance moving out as I was out of the country and they went out of their way to make it easier for me. Thank you and highly recommend!