XYZ Storage - Leslieville
459 Eastern Avenue, Toronto ON
1ST MONTH FREE
Photos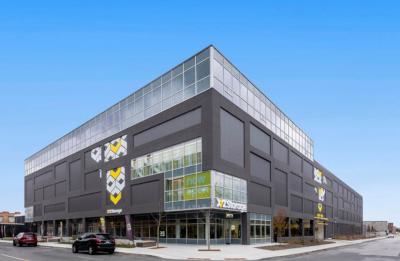 Hours
Office Hours

| | |
| --- | --- |
| Mon-Fri | 9:00am to 7:00pm |
| Sat-Sun | 9:00am to 5:00pm |
About XYZ Storage - Leslieville
The newly built, state of the art storage facility at 459 Eastern Avenue is your perfect downtown storage solution. The new addition by XYZ Storage offers a drive-through facility for your convenience from the elements. The facility has over 1400 secure storage units on numerous floors. Storage units range in size from 12 sq feet to over 200 sq feet.
The facility is easily accessible to the entire Downtown core, one block north of Lakeshore  Blvd and three blocks east of Broadview. The facility offers palette jacks and dollies for your convenience as well as a full retail store for all your moving and packing supplies. If a moving truck is a need, the facility also has its own rental truck.
Come on in today or call one of our storage experts now!
Climate Controlled Storage Units at XYZ Storage - Leslieville
Do you need a heated storage unit?  Will a climate controlled environment protect your valuables?  It depends on what you are storing and the time of year.  If you live near the Leslieville neighbourhood of Toronto, then you are familiar with extreme weather conditions.  Therefore if you are storing medical supplies, antique furniture, electronics, a musical instrument, or artwork, you should seriously consider renting a climate-controlled unit.  
Unit Sizes and Pricing
Small Storage Units
(25-75 Square Feet)
Features
Climate Control
Security
24 Hour Access
Parcel Delivery Acceptance
Drive-in Loading Bay
Packing Supplies
Dollies & Carts Available
Payment Options
Vehicle Storage
Moving Truck
Hours
Office Hours

| | |
| --- | --- |
| Mon-Fri | 9:00am to 7:00pm |
| Sat-Sun | 9:00am to 5:00pm |
Facility Reviews
---
I left Toronto for six months during the pandemic and needed to store my stuff somewhere - XYZ Storage Toronto Downtown was accessible, new, and affordable! Even more importantly, everything was extremely easy with move-in and move-out - you can literally just drive right in and out to load/unload. I appreciated having a safe space to store my stuff, and to top it all off the staff was wonderful - so professional and friendly. Highly recommend
---
(Omar) is a great employee, i love the service i was provided with, not only with his help but with every employee i met. Ive been at this location for a few months but they are VERY responsible and understanding and couldn't ask for better service from a Storage company. Omar went above and beyond and very respectful. I haven't had home as of April 5th due to a fire and he did everything he could to ensure my unit is secure and safe. God bless you Omar and the many other employees who always answer my tough questions and try to make sure i am satisfied. God bless all the staff😪😞 ❤
---
I have recently moved my stuff into Toronto downtown XYZ Storage, and my experience so far has been beyond any expectations! The facility is very conveniently located (easy access from Lake Shore boulevard and Eastern Avenue), clean, well-lit, secure and overall very well taken care of! The staff is extremely friendly and helpful. I was helped by Remy and Shaukath, who gave me an overview of the facility, explained storage options, helped to select the right unit type, and assisted with mobile app setup. They are also available for any follow-up inquiries via email. I am very happy with this storage facility and highly recommend it to anyone looking where to keep their stuff with a peace of mind!
---
I needed two small spaces for the better part of the year: one for business documents during period and the other for personal purposes. I appreciated whistle clean premises and the wonderfully helpful staff. My only complaint was the prices we t up twice throughout the year which was a little disconcerting. My advice is to have an annual review and give people plenty of advance notice. It would leaves a better taste. Overall, however, I was very pleased.
---
During the pandemic we like many decided to vacate our condo and try to get a house. We needed a convenient place to leave about 50% of our stuff so our condo could be staged and sold. XYZ was awesome, quick and easy drop off, friendly and helpful staff also they gave us our first month free and as soon as we moved to the house they gave us a credit for the extra days in the month we didn't need. It was a pleasure and if we ever need storage space again I know where to go. Highly recommended.